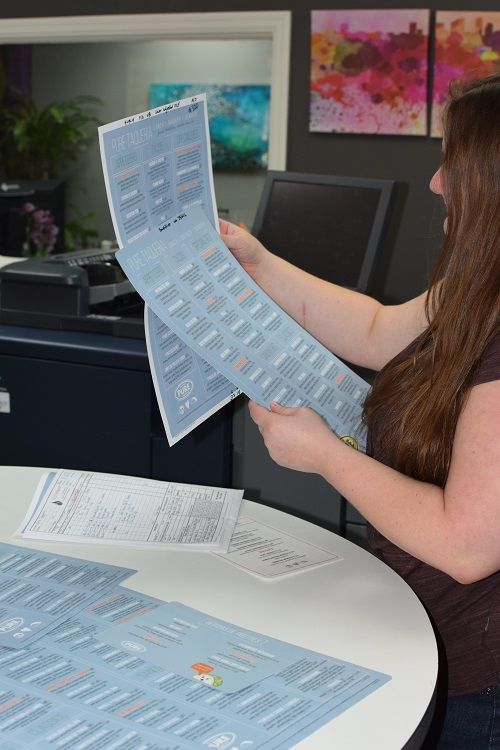 Satisfy Your Needs with a Tastefully Designed Menu
Restaurants in 2019 are upping their game in every way possible. Of restaurants today, the concepts and atmosphere are original, the entrees are unique and mouthwatering, and the service has progressed to make customers truly appreciate each aspect of the restaurant. Your menu is among the first chances to make an impression on your customer, so having a great menu is incredibly important in this business. From restaurant menu trends to the basics of great design, let's explore what makes up a standout menu.
Don't Let a Flawed Menu Design Turn Customers Away
Having a menu that's easily scannable and highlights key menu items can get customers' bellies rumbling, nearly assuring that they'll order an extra appetizer or dessert. Great menu design guides the eye of hungry restaurant-goers, inspiring them to order their go-to favorite, your restaurant's signature dish or a hidden gem of an entree that whets their appetite.
Restaurant Menu Trends in 2019
Synthetic Menus
Printed menus will always be trending. Printed menus in 2019 are more sophisticated than ever before with long-lasting textures that reflect the tasteful character and aesthetic standards of your restaurant. In the restaurant business, durability matters. The printing services of today can provide you with an attractive, long-lasting and a bright menu that will leave a lasting impression on your customers.
Digital Menus
With online food ordering and delivery services so common and readily available, having an online menu is more important now than ever. A digital-friendly menu will improve your online presence while opening your doors to walk-in and online customers. Also, having an online menu will allow customers to accurately and conveniently view it on their smart devices as they wait for a table.
Video Menus
Approximately 5 billion videos are viewed on YouTube every day. Not only will a video menu give your restaurant more exposure, but it will also provide a creative and trendy menu presentation format that can be displayed in the restaurant to impress patrons.
Collateral Pieces
Having an online menu is, of course, a great benefit for your restaurant, but different printed menus could help your restaurant as well. Whether a brochure to promote your catering services or simply a dedicated menu for wine, having different and creative prints of your menu will allow your restaurant to better showcase its selections.  
The Psychology of a Customer – What Makes Good Menu Design?
Use of Colors
Visuals with color increase people's willingness to read content by 80%.
Typeface or Font Family Selection
Font selection is a form of communication in of itself. A serif font might communicate class and elegance whereas a san serif font might come off as more casual. Regardless, be choosey of your typeface and limit your selection to only a few that are complementary of each other.
Photo Usage
Pictures can break up the text to make the menu more easily digestible.
Scannability
What will grab a customer's attention as they're scanning the menu? Colors, typefaces and pictures can all be used to improve a design's scannability. Section off your menu in a logical categorization with design that will guide the eye.
Want to Freshen Up Your Menu Design?
Give Synergetic Media a Call – We're Your Go-To Team for All Things Print and Design
Synergetic Media is a knowledgeable team of design and print specialists who have over 25 years of experience in visual communication. We're passionate about helping businesses grow through media, so let our team help make your idea a reality. For the quality you want at a price that fits your budget, give us a call today at 770-992-2832 to get started.
Want to be a part of our online community? Follow us on Instagram, Facebook and Twitter.