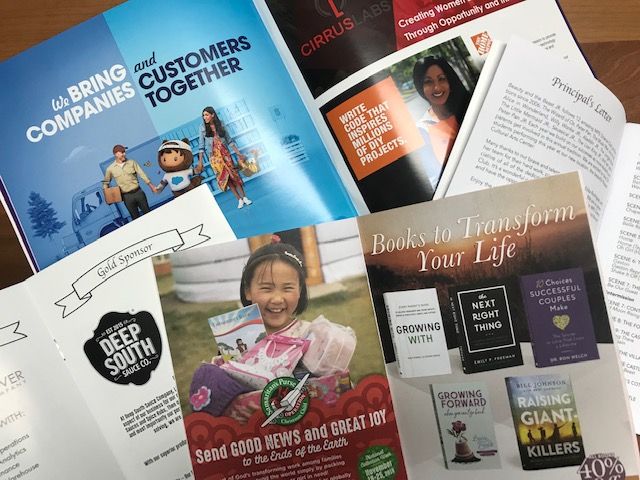 Enhancing Your Events with Program Booklets
Events can be hectic, no matter the occasion. Planning committees do all they can to help the program run smoothly, and certain resources can be used to add clarity and organization. For the event itself, program booklets are useful in that they provide helpful information while also being interesting keepsakes for people to take home—if done correctly. Event planners need to know what information to include in program booklets and how to present that content. What motivates event attendees to take these booklets home instead of tossing them in the trash on the way out? Let's explore the qualities of ideal event program booklets and how they can improve your upcoming event.
Events That Benefit from Program Booklets
Here are a few examples of when programs are utilized:
Award Ceremonies
Banquets
Conferences
Fundraising Events
Graduation Ceremonies
Performing Arts Events
Sporting Events
Whether for conferences, expos or fundraising events, program booklets are great devices for communicating to attendees. It's real estate for your message, providing an opportunity to display critical event information and your brand while giving thanks to the sponsors.
What to Include in Program Booklets for Non-School Events
Your logo and great branding
A map, schedule and any other critical info guests will need
Your website, social media handles and any additional contact info
A thank you to all sponsors
The event's hashtag, if applicable
Program Booklets for School Events
We always hear parents saying things like, "They grow up so fast." With our busy schedules, we hardly have time to slow down and take it all in. School events and ceremonies, however, are wonderful opportunities to allow families to celebrate life together. Whether gathering to watch their kid in a school performance or waiting to hear their name to receive a diploma, these moments are truly special—and what makes those memories last even longer are the tangible programs and handouts surrounding an event.
What to Include in Program Booklets for School Events
A brief order of the event
Contact info, including a website and social media handles
Related upcoming events
A list of the cast, crew or roster, if applicable
A thank you to all sponsors
What Should You Always Include in Program Booklets?
Whitespace and great design!
We cannot stress enough the importance of visual communication. Great design will lead the eye, guiding the reader to enjoy and absorb all your handout has to offer. Professional design and print quality are key in making beautiful and beneficial program booklets. With years of experience and formal training, the professionals of Synergetic Media in Alpharetta are ready to help make your ideal event program booklet a reality.
Let Synergetic Media Help You Create the Perfect Program Booklet
Synergetic Media is a knowledgeable team of design and print specialists with years of experience in print and marketing. For the quality you need at a price that fits your budget, reach out to us today at 770-992-2832 to get started. To keep up with our latest, connect with us on Facebook and Twitter.