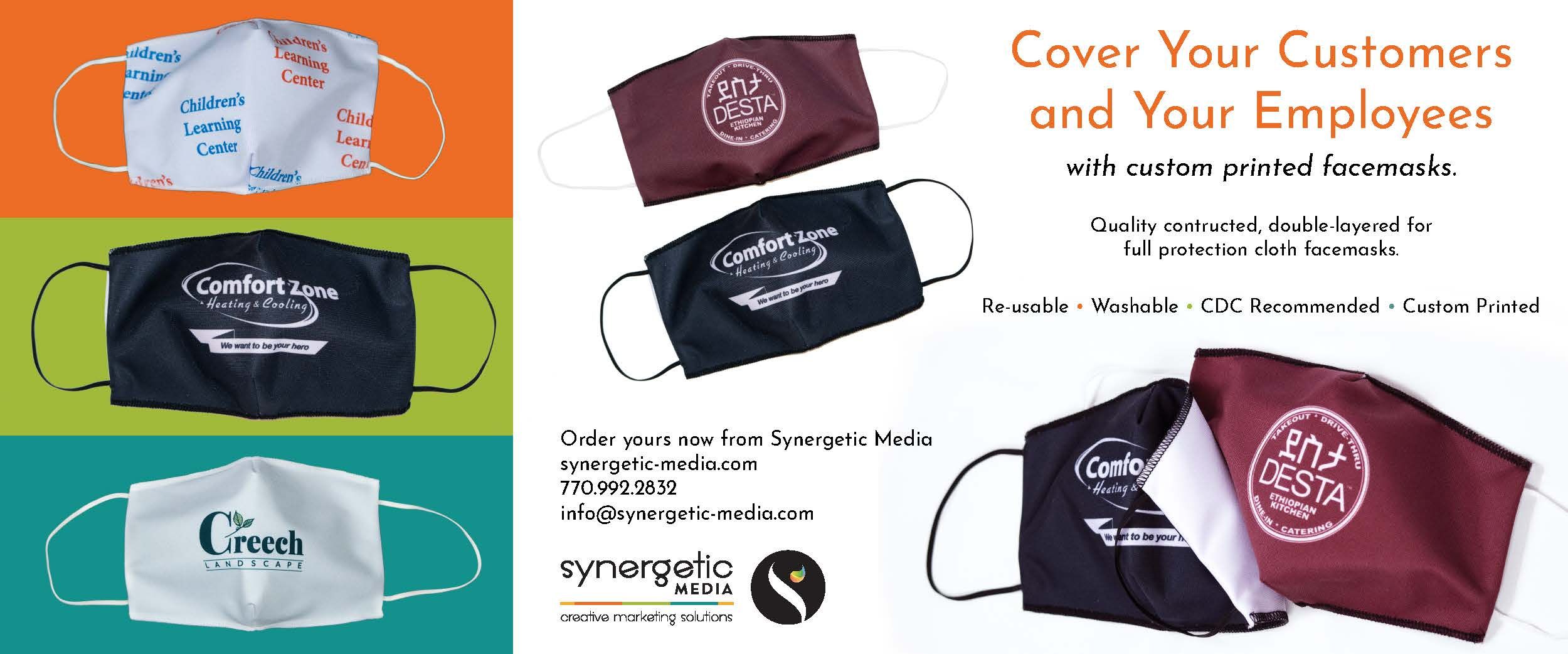 Unique Times, Unique Approaches
Words and phrases like "unprecedented" and "social distancing" have been used now much more than before, but that's just the reality of our world today. These are unique times that seem to transform every day, which may mean optimistic days are around the corner regarding our local economy. As we learn more about COVID-19 and how we can minimize its spread, businesses are once again opening up, but they have a responsibility to uphold in doing so. The leaders and businesses in our community need to carefully and tactfully approach the logistics of reopening, exploring what health and safety procedures are necessary to do so. As a commercial printing and other marketing services company in Alpharetta, the team of Synergetic Media would like to provide insight into the implications of reopening, considering some steps to your approach that may make a difference.
Communicate Operations Adjustments
COVID-19 has of course changed how we live life. Health and safety measures such as social distancing and wearing a mask have become normal. That said, these guidelines shouldn't go unspoken. You as a business should communicate what your process will be upon opening. Will your facilities be regularly sanitized? Will employees wear masks? Are customers required to wear masks? Follow the CDC's guidelines when considering operational updates, but also clearly communicate these updates so your audience knows what to expect and that your place of business is safe to visit. Alleviate worries by using media to offer upfront answers your customers may wonder about.
How to Get the Word Out
Digital Media
Many companies and organizations during this time are utilizing social media and e-newsletters to communicate with their audience. If used thoughtfully, these platforms can reach a wide audience and help your customer base learn about updates. Be responsible when sharing pandemic-related information, ensuring what you communicate aligns with the CDC's and government officials' recommendations; when in doubt, cite reliable organizations and outlets to maintain credibility.
When posting online, this is a great opportunity to hear directly from leadership. A video from your leadership team would give your content a personal touch that a standard update might not have. This is a medium to show your customers you care and have put thought into reopening.
Signage
While printed media such as mailers and cards can help with advertising, what will be very important upon reopening is signage that clearly states operational updates and guidelines required to keep your place of business safe. Consider what informative messages should be posted and where they should be displayed. For example, a "Please Wear Facemask" sign would be most appropriate by the entrance whereas a "Please Wash Hands" sign would be very functional for those exiting the restroom.
Keep in mind that these messages will be best received and understood not only with thoughtful placement but also with great design. A professional commercial printing company with graphic design services will be able to ensure the right color, spacing, and other concepts will be utilized to best reflect your message. Synergetic Media in Alpharetta is ready to help you spread the word, allowing customers to quickly understand the message in effort to make for a safer, healthier place of business.
Updates Make a Difference
In whatever media you produce and publish, show that you care. Explain why you're reopening, why now is a good time, why your health guidelines are in place, and so on. In the meantime, show how you're making a difference. For example, maybe now isn't an appropriate time for your business to open up—only you can make that call—but how are you focusing your energy now to make a positive impact in the community?
We need each other more now than ever. Phrases like "We're all in this together" have become cliché at this point, so think outside the box of ways you can show your dedication to making a difference. If you own a restaurant, maybe you've been donating leftover food to local frontline workers. If you run a clothing boutique, maybe you've been providing handmade, CDC-approved masks to those who need them. Show your true colors during this time, even if you may not see immediate economic rewards from it. This is a time not only to help those around us, but also to display our character and intentions for our beloved community.
Excellent Printing Services Despite Unique Circumstances
Count on Synergetic Media
Synergetic Media is committed to service during this time and is happy to be a resource for businesses. Your commercial printing needs are most likely different now than they've been in the past, but we are experienced professionals, taking a creative approach to offer printing and marketing solutions for you amid COVID-19. From branded face masks to informative public health guideline signage, our team is here to serve you.
As your neighbors in Alpharetta, let Synergetic Media provide the unique commercial printing services and other marketing services you need right now. For the quality you need at a price that fits your budget, reach out to us today at 770-992-2832 to get started. To keep up with our latest, connect with us on Facebook, YouTube, and Twitter.